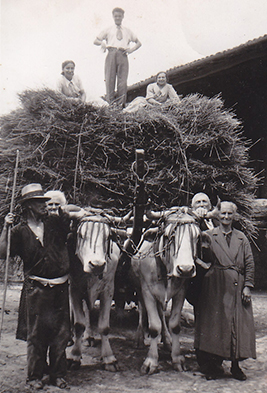 The Corti Family has been farming for generations: a longstanding tradition characterised by hard work and great commitment from a team that have always been forward-thinking and aware. In 1960, Cleto Corti received the recognition of the Italian State, awarded by the then Minister for Agriculture, Mariano Rumor, for the work done on reclaiming the Marlenzone estate – a farm complex of over 100 hectares, comprising several independent buildings, which the Corti Family is renovating as part of a significant cultural heritage restoration project.
Carlo Gallini, a big name in the local agricultural sector, lived on the Marlenzone estate during the nineteenth century.
In the 1970s, Natalino Corti purchased the Cascina Matta estate in Bressana Bottarone (Pavia), allowing the company to increase its production capacity. This was followed in the 1980s by substantial improvements to both farms, including the introduction of "Pivot" irrigation systems and the development of tobacco cultivation.
Since 1995, when the company reached its current 200 hectares and son and daughter Claudio and Michela joined the firm, the traditional cereals and tobacco have been accompanied by the walnut, which has become Agricorti's leading crop.
Since 2002, when Claudio and Michela took over the farm fully, Agricorti has developed its commercial walnut network, working directly with retailers, wholesalers and large-scale enterprises all over Italy.