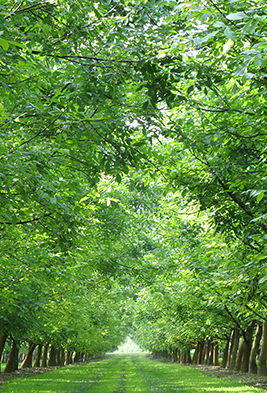 Originally from Iran, the walnut tree has found in the Oltrepò Pavese deep and fertile soil and an ideal climate characterised by hot summers and cold winters.
Agricorti's walnut grove is arranged in long, neat rows, in a space marked by sharp edges: 36,600 Lara walnut trees, split between the two estates at Pontecurone and Bressana Bottarone, cover a total of around 100 hectares.
The walnut grove is home to trees of different ages – planting began in 1995-1996, and continued over the years through to the most recent arrivals, bedded out in January 2012.
The trees are constantly monitored by specialist agronomists, who use advanced techniques to ensure integrated protection against insects and diseases, with total respect for the environment.