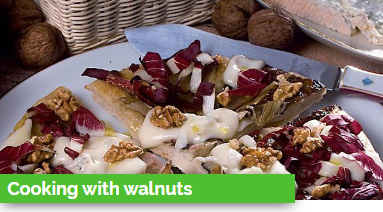 Difficulty: low
Preparation: 50 min
Leavening: 24 hours
Portions: 4 people
This pizza is very reminiscent of the 80s, due to the particular combination of its ingredients, between the sweet of the pears and the savoury of the other components.
By preparing this pizza, we will combine the tastiness of a base prepared according to the traditional Neapolitan recipe and the refinement of its toppings.
INGREDIENTS
1 kg of type 00 flour • 3 g of dry brewer's yeast • 650 g of still water • 20 g of extra virgin olive oil • 200 g of gorgonzola • 1 ripe pear • salt to taste • red radicchio to taste • rosemary to taste • walnuts to taste
PREPARATION
Combine the flour with the yeast and the water. Mix the ingredients. Add the salt and 15 grams of oil and, as soon as the dough takes shape, knead well with your hands. Let it rise for 24 hours in the refrigerator.
On a pizza pan with parchment paper, pour a drizzle of oil and arrange the pear cut into thin slices in a radial pattern and a few whole radicchio leaves. Add a little chopped rosemary and let it cool completely in the refrigerator.
BAKING
Spread the dough on a floured pastry board, and with the disc you obtained coat the pan with the pears and radicchio. Bake at 180°C for about 25 minutes.
Once out of the oven, turn the pizza upside down on a cutting board, so as to have the pears and radicchio on the surface, and cut it into four wedges.
Prepare separately a gorgonzola fondue, melting it well in a saucepan, over low heat. Pour the cheese on the pizza. Finish with the walnuts and a little radicchio cut into strips.
Taken from Mastercucina